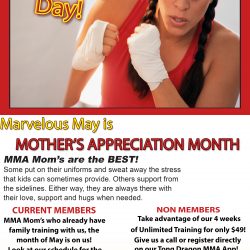 Check out our offers for Moms in the month of May!
CURRENT MEMBERS: Moms who already have family members here, the month of May is on us! Just go to our schedule and come in to the next Muay Thai class!
NON MEMBERS: For only $49 you get 4 weeks of unlimited training! Download our TONG DRAGON MMA APP and click the memberships options, register under the Mom offer!